Product Catalog
Precision sheet metal
Product Categories:
Complete equipment / distributors

product description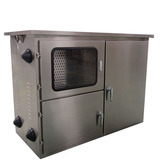 Sheet metal, bǎn jīn (Metal Plate; SheetMetal in English), has not yet had a relatively complete definition. According to a definition in a foreign professional journal, it can be defined as: sheet metal is a comprehensive cold working process for thin metal plates (usually below 6mm), including cutting, punching / cutting / compositing, folding, riveting, splicing, Forming (such as car body). Its distinctive feature is the same thickness of the same part.
Explanation of "Modern Chinese Dictionary (5th Edition)" ——
Sheet metal: verb to process metal plates such as steel plates, aluminum plates, and copper plates.
company name:

Hubei Tianchen Technology Co., Ltd.
contact number:
18668882698
Contact Fax:
0714-8422145
contact address:
Majiatang Village, Xinye Avenue, Daye City (within Huangshi Yunhe Industry and Trade Co., Ltd.)