Product Catalog
Data collector
Product Categories:
Electrical instrumentation / energy meters

product description

One.

model
The data collector models are: N9-100DC and N9-101DC, of which N9-101DC has a loop control function.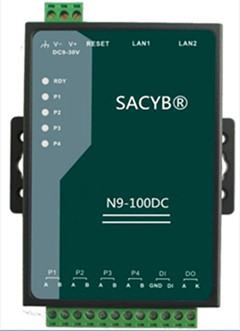 Technical parameters
The product contains the following software and hardware features:
Hardware characteristics:
Main system
CPU: Industrial-grade ARM9 embedded microprocessor, 400MHz
RAM: 64MB SDRAM
Flash: 128MB NAND Flash

Network Interface
LAN: 1/2 10 / 100Mbps adaptive industrial Ethernet, standard RJ45 interface

Serial interface
User serial port: 2 RS232 level serial ports, 2 RS485 level serial ports
RTC
RTC: RTC with backup lithium battery

LED indicator
Power: PWR
Serial port: P1, P2
Network ports: LAN1, LAN2

special function
Temperature check: Support temperature check function Encryption function: Support hardware encryption function Buzzer: Support buzzer alarm

Mechanical properties
Weight: 100g
Size: 115 × 100 × 26 mm

working environment
Working temperature: -40 ~ 80 ℃
Operating humidity: 5 ~ 95% RH
Storage temperature: -50 ~ 100 ℃

Power requirements
Power input: 9 ~ 48 VDC, 12VDC is recommended
System power consumption: 2.4W

reliability
Watchdog: Hardware Watchdog (WDT) monitoring
MTBF: more than 100,000 hours

2 years warranty
Three. Software functions
In response to the state's call for energy conservation in large buildings of state agencies and public institutions, this system has the following software functions:
3.1 Real-time acquisition
SACYB-2020 / 2012 includes a maximum of 4 universal serial interfaces, which use serial ports to collect data from the instrument through RS485.
All serial interfaces are abstracted into device files through the Linux device driver. The application only needs to operate the corresponding device files to achieve the operation of the corresponding serial interface.
The serial interface device file is located in the Linux system directory: / dev, and the device files are: ttyS0 to ttyS4. The corresponding relationship with each actual serial interface is shown in Table 4-1.
Table 4-1: Correspondence between serial device files and serial interfaces
| | | |
| --- | --- | --- |
| Device file name | Corresponding serial interface | description |
| ttyS0 | DUART | System debug serial port |
| ttyS1 | UART0 | Universal serial interface, RS232 level |
| ttyS2 | UART1 | Universal serial interface, RS232 level |
| ttyS3 | UART2 | Universal serial interface, supporting half-duplex RS485 communication |
| ttyS4 | UART3 | Universal serial interface, supporting half-duplex RS485 communication |
The data collector supports two data collection modes: data center command collection and active timing collection. The timing collection period can be flexibly configured from 10 minutes to 1 hour.
One data collector supports data collection for no less than 32 metering devices.
A data collector should support data collection for measurement devices of different types of energy consumption at the same time, including energy meters (including single-phase energy meters, three-phase energy meters, multi-function energy meters), water meters, gas meters, heat (cold) Scales, etc.
3.2 Data storage
This system uses SQLLITE database, which can store historical data for 7-10 days. The data collector is configured with a dedicated storage space of not less than 16MB
3.3 Data transmission
The data collector transmits the collected energy consumption data remotely at regular intervals. Generally, it is stipulated that the energy consumption data of each item is uploaded every 15 minutes, and the energy consumption data of no item is uploaded every 1 hour.
Before the remote transmission, the data collector encrypts the data packet.
If the data cannot be transmitted remotely at regular intervals due to a failure of the transmission network, etc., the data collector should use the stored data to resume the transmission after the transmission network returns to normal.
The data collector supports sending data to multiple data centers (servers) concurrently.
3.4 Loop control (N9-101DC only)
This system has a control function, and users can perform control configuration on the configuration tool according to their needs. The configuration software sends the configuration file to the collector,
The collector searches according to the number, which loop controller needs to be controlled. The customer can choose the manual control function, operate according to the actual situation, and control the air conditioner, socket, and lighting switch.
3.5 Local configuration and management
The data collector supports receiving commands such as query and time calibration from the data center. It also supports the location and diagnosis of faults in the data collection subsystem, and supports reporting fault information to the data center. The data collector should be equipped with an automatic recovery function, which can recover the normal working state from the failure when unattended.
Download
Previous
company name:

Nanjing Nanzi Power Meter Co., Ltd.
contact address:
J Building, No. 8 Xinghuo Road, Nanjing High-tech Development Zone