Product Catalog
Tray type cable tray
Product Categories:
Transmission and distribution equipment / cable tray

product description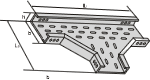 Tray type cable tray is the most widely used in petroleum, chemical industry, electric power, light industry, television, telecommunications and other aspects. It has the advantages of light weight, large load, beautiful appearance, simple structure and convenient installation. It is suitable for both the installation of power cables and the laying of control cables.


The surface treatment of the tray type cable tray is divided into three types: galvanized, plastic sprayed and painted. It can be specially anticorrosive treated in the severe corrosive environment. When using plastic spray treatment, consider reliable grounding and use a grounding bar.


The tray type cable tray is provided with a shield. When a shield is required, it can be specified when ordering or according to the model of the shield. All its accessories are common to step type, trough type and bridge type.


For the specifications of this standard, users can order drawings, letters, and consultations according to their needs.
company name:

Jiangsu Xike Intelligent Electric Co., Ltd.
contact number:
13645283466
Contact Fax:
0511-88133466
contact address:
No.189 Xinglong Section, Yangzhong Avenue, Yangzhong Economic Development Zone