Product Catalog
Advantech FPM-8151H explosion-proof display
Product Categories:
Electrician

product description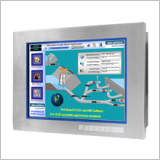 Introduction of Advantech FPM-8151H Explosion-proof Display
15 "XGA industrial flat panel display, 316L stainless steel front panel, Direct-VGA, DVI port, support wide operating temperature
Advantech FPM-8151H Explosion-proof Display Main Features
15 "XGA TFT LED-backlit LCD display 316L stainless steel front panel The front panel complies with NEMA4 / IP65 protection class -20 ~ 60 ℃ (-4 ~ 140 ℉) wide working temperature enhanced 5-wire resistive touch screen Direct VGA & DVI-D Video input interface Touch screen support Combo RS-232 & USB support 24 VDC input and 100 ~ 240 VAC input (optional AC adapter) Front panel supports lockable OSD control keys Conforms to UL CID2 certification Conforms to ATEX Class I, Zone 2 certification
Advantech FPM-8151H Explosion-proof Display Product Introduction
Advantech FPM-8151H is a particularly strong and reliable 15 "XGA wide temperature type industrial flat panel display, widely used in a variety of industrial industries. It supports a wide operating temperature range of -20 ~ 60 ° C (-4 ~ 140 ° F), which can be very FPM-8151H also supports enhanced 5-wire resistive touch screen and system ground protection to enhance its reliability. In addition, FPM-8151H meets UL hazardous environment C1D2 certification and ATEX C1Z2 Certification can effectively guarantee safe operation in hazardous environments.
Advantech FPM-8151H explosion-proof display detailed parameters
FPM-8151H-R3AE
DisplayDirect VGA InputYesFront Panel IngressProtection NEMA4 / IP65LCD DisplayBacklight Life (hrs) 50,000Colors 16.2 MLuminance (cd / m2) 350Size (diagonal) 15 "XGAViewing Angle (H / V °) 160, 140MiscellaneousCertificationCCC, CE, FCC, UL, BSMI, UL CID2Physical CharacteristicsDimensions (W x H x D) 422 x 338 x 68 mm (16.61 "x 13.31" x 2.68 ") Power SupplyDC Power Input24 VDCPower Adapter100 ~ 240 V
Advantech FPM-8151H Explosion-proof Display Ordering Information
Product description FPM-8151H-R3AE LCD DISPLAY, 15 "XGA Ind. Monitor VGA / DVI, -20-60C, C1D2
For more information about Advantech FPM-8151H explosion-proof display, please contact us.
company name:

Beijing Baochuangyuan Technology Co., Ltd.
contact address:
1903, Building 2, No. 1 Information Road, Haidian District, Beijing