A special plate heat exchanger is used as the material liquid heater, and a horizontal evaporation chamber is used to form a plate evaporator. The heat exchange plate is stamped from 1 ~ 1.5mm stainless steel plate, and consists of 4 plates (combination process. The material liquid is fed by the plate side channel, and flows from bottom to top in each group of plates, and then enters The other plate flows into the discharge channel from top to bottom to be heated and evaporated. The heating steam passes from top to bottom between adjacent plates to condense, and the condensed water flows out from the plate side channel. The heated liquid enters the horizontal evaporation chamber. A concentrated solution was obtained after separation by evaporation.
The R & D and manufacturing of MVR evaporation equipment involves chemical technology, mechanical design, automatic control, mechanical processing, installation and commissioning, and other professional technical fields. It is a relatively complex customized integrated engineering project. Many manufacturers entering the MVR industry have a lack of technical focus and lack of project experience. In the face of complexity and diversity of industrial wastewater treatment, when many projects appear to be unstable or unreliable, the initial plans and technical reserves are not enough. And when problems occurred late in the project, they were caught off guard or completely helpless, which led to a large number of "layouts" in MVR, which caused adverse effects on the industry. With the development of the industry, currently focusing on MVR equipment manufacturing, domestic manufacturers with core technologies have grown into a number of enterprises and have become the mainstream backbone of the domestic MVR industry.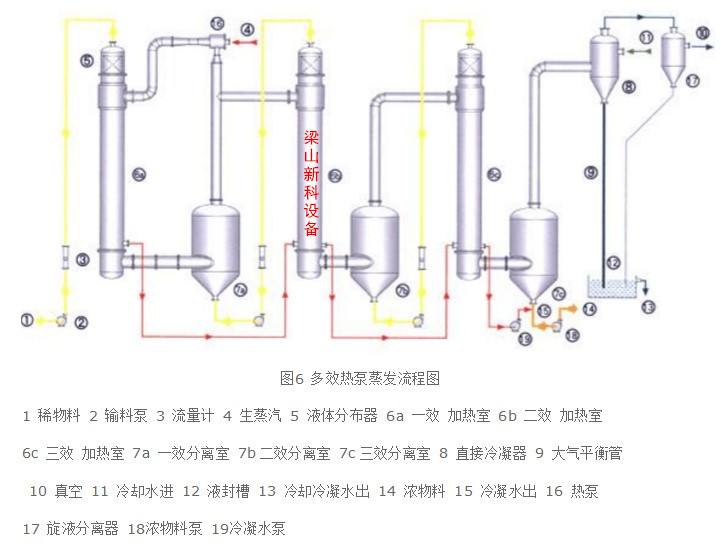 Evaporation and crystallization: May wish to evaporate directly to the crystallization, crystalline particles can reach. 2. Energy saving: high thermal efficiency, saving resources, lower specific energy consumption, energy consumption of evaporation of a meal is probably 1/6 to 1/5 of traditional evaporators, and operating costs are greatly reduced. 3.Environmental protection: completely relieved the reliance on the steam boiler, as long as there is electricity, you can use a mechanical contraction evaporator. No steam required; no steam boiler required; no coal burning required; no cooling water required. Reduced SO2, CO2 emissions, reduced dust and solid waste emissions, reduced pollution, and improved our living environment. This also prevents the investment and care costs of buying boilers, building chimneys, laying pipe networks, and preventing the transportation of a large amount of coal or fuel oil. 4. Low operating cost: Due to the low energy consumption, the corresponding operating cost of the evaporator is also greatly reduced. Only one-third to one-half of the traditional evaporator, the use of MVR evaporators not only reduces the cost, but also reduces Character is guaranteed. 5. High level of automation: The energy-saving evaporator is equipped with an automatic control system designed by Rui Shenghua. All evaporators have completed the automatic control of steps from filling, preheating, evaporation, scrubbing and conditioning. Prevents human error, reduces manpower costs, and improves product quality. 6. Small footprint: The energy-saving evaporator uses a shrinking machine to recycle the secondary steam, which improves energy efficiency, so it is more compact than a traditional evaporator. Take the EVAP500 evaporator, which evaporates 500 liters of water per hour as an example. There are 4 * 3 * 1.6 cubic meters. Less than a tenth of a traditional evaporator.
Working principle of falling film evaporator: Falling film evaporation is to add the material liquid from the upper box of the heating chamber of the falling film evaporator, and evenly distribute it into each heat exchange tube through the liquid distribution and film forming device.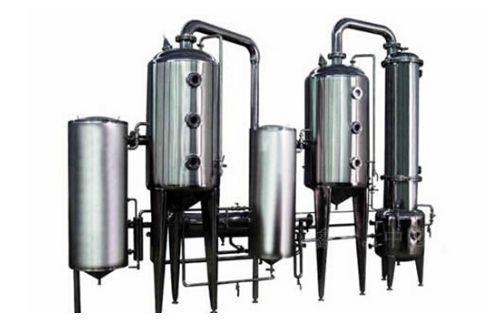 MVR (Steam Mechanical Compression Device) is an evaporation and concentration equipment that compresses and heats all the secondary steam into heating steam and recycles it. The installation space of the MVR evaporator is about twice that of the ordinary multi-effect evaporator, and the equipment investment is relatively large, but the operating cost is much lower than that of the ordinary multi-effect evaporator. In order to avoid operator error or MVR failure due to incorrect operation, it is necessary to protect the self-controlling operating system of the equipment.